Gualala River Estuary
Overview
Seasonally, the Gualala River mouth varies between an open connection to the ocean, typically in the winter, and a closed coastal lagoon behind a beach barrier during the summer. The fresh-water dominated closed summer conditions provide critical habitat for pre-smolt and smolt salmonids.
The estuarine influence extends up-river from the mouth of the Gualala River to the convergence of the North Fork and South Fork. This stretch of the Gualala River, including the estuary, was designated "Wild & Scenic" by the State of California in 2003.
Current Condition
In 2002 and 2003 both physical and biological surveys were conducted in the Gualala Estuary by ECORP Consulting, Inc.
This study was a result of a partnership with the Gualala River Watershed Council and Sotoyome Resource Conservation District, funded by the California State Coastal Conservancy.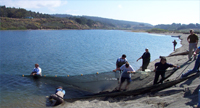 In the Gualala River Estuary Study many of the risk factors to salmonid populations in the estuary were attributed to degraded habitat conditions in the upstream portions of the watershed (ECORP, 2005).
Rearing capacity in the estuary is generally good for pre-smolt and smolt salmonids under existing conditions. However, additional deep pool habitat, shelter from predators and solar radiation would increase summer refugia.